Related Posts
Growth In Medical Assisting
by
J. Chapman
posted on
April 9, 2018
Medical asssisting employment opportunities are expecting to grow at a phenomenal rate over the next decade. The Bureau of Laor Statistics expects a 29% growth from 2016 to 2026. This is much faster than average. This can be attributed to several factors. One of the biggest factors is the aging of the baby-boomers, who will continue to put an increased demand on medical services. The increase in the number of people who have insurance will also put an increase on the need for preventitive medical services. As a result of the increase in demand, physicians will hire more medical assistants to perform administrative and clinical duties. The medical assistants these duties will allow the physicians to help more patients.
Read more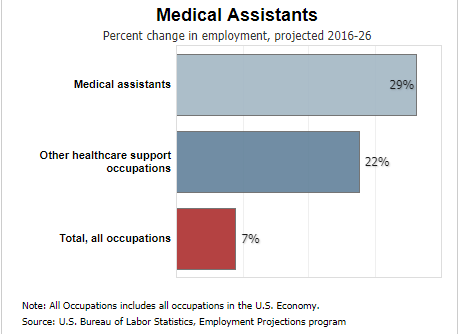 The Future Looks Bright For Medical Assistants
by
Molly Howgill
posted on
February 24, 2016
Good news for Pinnacle Career Institute's Medical Assistant students! Information from the Bureau of Labor Statistics states the following growth and key reasons to support it.
Read more